The Who & The Grateful Dead October 9-10 Oakland Stadium Poster 28 1/4 x 20 1/4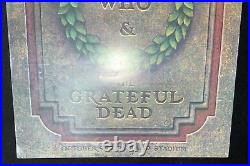 Please read entire description before purchasing. Obvious signs of marks, scratches, creasing, micro-tears, micro-rips, discoloration, yellowing.
Please see pictures before purchasing. Approximately 28 1/4" long x 20 1/4" wide.
Please determine if product is satisfactory before purchasing. Comes with plastic sleeve for protection.