Original Warlocks Concert Tickets Grateful Dead 1965 Only Known (3) Not Poster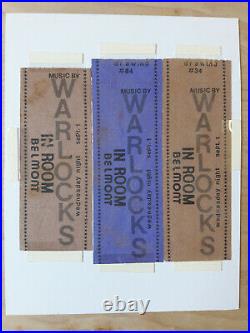 I'm Considering Offers on a variety of extremely rare Grateful Dead Acid Test memorabilia. This is a Set of (3) Tickets for the Inn Room in Belmont, on Sept. 1, 1965 - They measure approx.
2 3/4" x 8 1/8" - They are in excellent condition. One Blue, One Brown completely intact, and one Brown ticket with the Raffle Entry stub removed.
This is the ONLY Set of Warlocks Tickets Known to exist. Quite a chance for the discerning collector.
This is a Great Investment Item. Acid Test Posters and Handbills are the most collectable items of the psychedelia rock and roll period.
Psychedelic Concert Posters are one of today's most solid investments. I'll be listing more items like these in the coming weeks ahead so stay tuned. They were swept -- no, they dived, in group formation -- into the vortex of the LSD culture that Kesey and his troupe of Pranksters were just beginning with their Acid Tests of psychoactive evangelism around the Bay area. At first, the members of the band (or at least most of them, much of the time, Weir excepted) had an unofficial policy of performing while straight (or relatively straight, after smoking pot and/or drinking) and tripping only offstage.
Soon, they began to entwine their creative lives and psychoactive lives. In little time, the two were inseparable. "We got one night off a week, " says Weir, and every Sunday we'd go out and take acid, because that was just starting to come around.
There were wooly freaks in the audience, and they were high, and we related to them -- got a kind of contact buzz off them. "Then, one night -- "I guess I was the first guy in the band actually to take acid. I had some, I took it and went to the gig -- I think it was a Tuesday night at the In Room, and all the guys in the band were watching me to see if I was going to make it through the evening. Isn't that a little radical? And I made it through the evening.
It wasn't a good night or a bad night. There were some challenges involved, because I think I overdosed myself. I was profoundly disoriented, I'll tell you. But I made it through the evening. And so shortly on the heels of that, the rest of the guys figured,'OK, if the kid can do it, we're good to go.
The LSD gave us an insight, because once you're in that state of profound disorientation, you play stuff out of muscle memory that you're used to playing, but it will sound way different to you, and in that you'll find all kinds of suggestions of places to take it. Bit by bit, we'd follow those pathways. We were taking acid every week for a couple of months, and I think we learned what we were going to learn with that method in that couple of months. We learned in that time an important lesson, to try to step back from what it is you're playing -- not be there, to step back and let the song be itself.
All we were there for was to be there to help the song, to do a few physical things to let the song happen, and the song would take care of itself. " "For six weeks beginning in the fall of 1965, the band played five forty-five-minute sets (with a fifteen- minute break) per night, five nights a week, at a club for down-and-outers called the In Room in Belmont, a suburban town north of Palo Alto. "That's where we started getting a little out, " Lesh says.
We'd play one song for forty-five minutes --'Midnight Hour,' by Wilson Pickett. We thought it was OK to do that, because the only people who were in there were people who were sitting at the bar drinking, and occasionally some people would come out and dance.
I don't know if we drew people in or pushed them away. But I know that over that six weeks we really evolved our playing to a point where we could take it out and be free with it and just listen to each other play and find musical ideas and find whole musical structures -- in the ozone, as it were. We borrowed it all from Coltrane. I started encouraging everybody in the band to listen to John Coltrane --'Check it out, see what these guys do. They take one chord, the tonic chord, and just play all over it.
We can do that too! I wanted to make our music something really amazing -- I wanted it to be jaw-dropping and turn on a dime and do all of those things that I knew music could do, and nobody told us we couldn't do it. I shouldn't say'I,' though -- Jerry was behind it the whole way. The item "Original Warlocks Concert Tickets Grateful Dead 1965 Only Known (3) Not Poster" is in sale since Sunday, October 25, 2020. This item is in the category "Entertainment Memorabilia\Music Memorabilia\Rock & Pop\Artists G\Grateful Dead\Posters".
The seller is "postertrip" and is located in Oakland, California. This item can be shipped to United States.
Size: 2 3/4" x 8 1/8"
Country/Region of Manufacture: United States
Original/Reproduction: Original
Artist/Band: Grateful Dead