GRATEFUL DEAD Concert Poster Original 1st Print. Swing Auditorium 12/12/80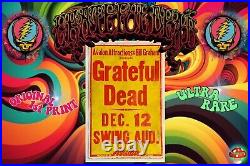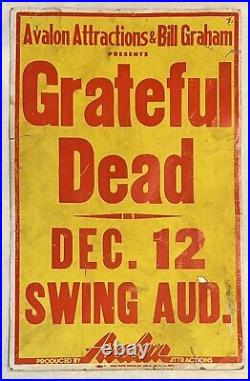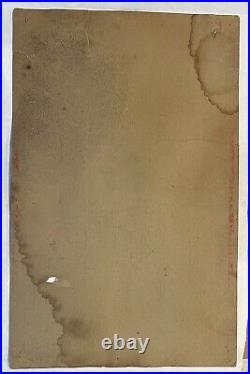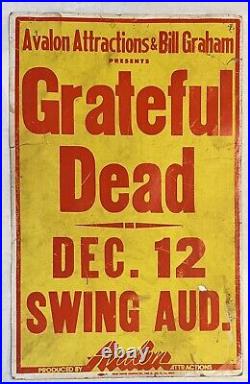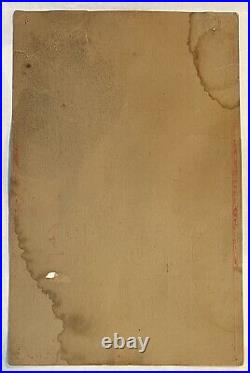 LOCATION M: San Bernardino, California. Grateful Dead Swing Auditorium 1980. Poster dimensions are 14" x 22".
The show shoots right out of the gate with an Alabama Getaway> Greatest Story, showing a lot of the lightning and speed that they would display throughout the evening. Though the Friend of the Devil that comes out next is anything but fast, Jerry's picking on it is so tasty. The Althea, Peggy-O, and LL Rain in the first set are all sensational, and this sweet audience tape does a great job of catching the idiosyncrasies of the crowd's reactions throughout. The second half begins with a ridiculous China Cat where Bobby and Jerry tangle up during some heady runs while Phil pounds out a deep beat.
Then the Rider comes out like a cruise across the countryside; with a traveling beat and flighty guitar licks, you can practically feel the breeze in your face. The Estimated up next is powerful, as the boys charge forth for the first half of the tune before meandering and pacing through a garden of musical delights, right into a monumental He's Gone. Just days after John Lennon's death, there was nary a dry eye in the place as the boys sent up a poignant, deeply emotional rendition. Some claim that Jerry had tears streaming down his face throughout it. Afterwards, the Dead go into a short Eyes Of The World, which they absolutely shred.
After a lengthy Drums> Space, Truckin' comes out, getting the crowd romping in the aisles and culminating in a fantastic jam that turns a little spacey before coalescing into Wharf Rat. The set goes out with a rocking Around And Around> Good Lovin'>Don't Ease Me In. Unrestored Condition: No attempts at any kind of cleaning, pressing or restoration of any kind.
GUARANTEED AUTHENTIC - ITEM GUARANTEED AS DESCRIBED. See pictures for exact item.