Fillmore BG-62-OP-1 Grateful Dead Signed by Wes Wilson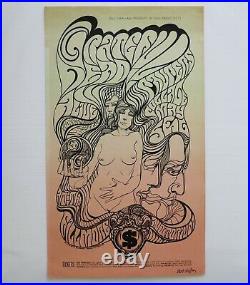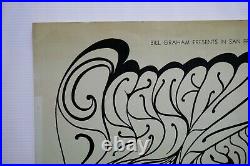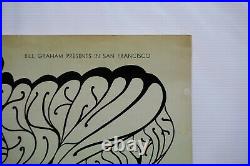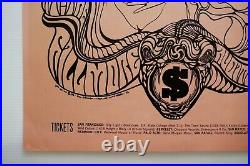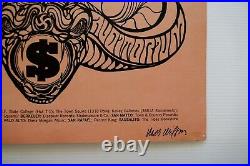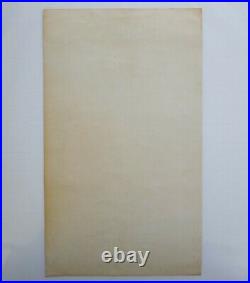 Fillmore BG-62-OP-1Grateful Dead Signed by Wes Wilson. Condition: there are 3 micro pinholes; one in top center and one in each of the bottom edges.
They are very hard to see. A very nice example of this historical poster. Bill Graham and all of the graphic artists had a never ending battle over copywriter ownership. Bill was of Jewish faith. Wes Wilson (Robert Wesley Wilson) is generally acknowledged as the father of the 60s rock concert poster. In 1968, he received an award from the National Endowment for the Arts for his contributions to American Art. He pioneered what is now known as the psychedelic poster in which blocks of letters were used to create shapes which seemed to bend and vibrate in place. Wilson grew up more interested in nature and the outdoors than in art. He studied forestry and horticulture at a junior college in Auburn, California, then attended San Francisco State, where his major was philosophy. After college, Wilson joined Bob Carr, whose basement print shop was known as Contact Printing.
As Carrs assistant and partner, Wes Wilson did the basic layout and design for most of the work Carr brought in through contacts in San Franciscos North Beach coffeehouse poetry and jazz club scene. In 1965, Contact Printing was well-positioned to serve San Franciscos burgeoning counterculture. It produced handbills for the San Francisco Mime Troupe fundraising benefits, the so-called Appeal parties, as well as for the Merry Prankster Acid Tests. Both were linked to the newly reborn dance-hall venues through a series of benefit concerts, so it is no surprise that the dance-hall promoters soon found their way to the Contact press.
Wes Wilsons first poster was self-published. Done in 1965, it features a swastika within an American flag motif, a protest by Wilson to the ever-increasing U. Involvement in the Vietnam War. Wilson designed the handbill for the Trips Festival.
He attended the event and was deeply moved by what he saw and experienced. Wes Wilson had also been doing the posters for promoter Chet Helms shows at the Straight Theatre. It was Wilson who designed the original logo for the Family Dog and who did the posters for the brief series of Family Dog shows at the Fillmore Auditorium, and then for the first series of Family Dog shows at the Avalon Ballroom. Soon he was doing that work plus doing the posters for Bill Grahams shows at the Fillmore. After several months, Wilson stopped producing for the Family Dog venue and concentrated almost exclusively on posters for Bill Grahams Fillmore events. He cites that with Chet Helms and the Avalon Ballroom, he was often given a theme around which he was asked to improvise, while with Bill Graham and the Fillmore, he was given complete freedom to design whatever he wanted. Wilson enjoyed the added artistic freedom. Wes completed 56 posters for Bill Graham in only 14 months, averaging one poster per week for the Fillmore. His first poster for the Fillmore was the second concert BG 2 (the only concert that did not have a band) and he did all posters to BG 26 picking up again at BG 28 through BG 51 and then again at BG 53 through BG 58 and then BG 62. Wes told me that Bill hired him as he was the only person that Bill knew who could design, print, and distribute a new poster every week. Wess other major breakthrough was in his use of color -- inspired by the light shows of the concerts themselves, he mixed colors with wild abandon, resulting in jolting visuals that perfectly captured the revolutionary essence of the music his art promoted. His work quickly moved beyond the confines of the psychedelic subculture into the mainstream, resulting in profiles in magazines including Time, Life, and Variety; however, in May 1967 he stopped producing posters for Graham, claiming the promoter had failed to honor their existing royalty agreement. Bill Graham was Jewish and not happy with the poster; or with Wes. Wes did not do another Fillmore poster until December 1968. Here are Wes Wilsons details of the story as told to Collectors Weekly. I had signed a contract with Bill. Id been copyrighting my posters, so he said, Weve got to work out a contract. By that time, people were starting to collect posters, so we sat down and worked out a deal. We signed and initialed it.
His attorney was supposed to clean it up, make a copy, and then we were going to re-sign it. It was all officially approved, but it was kind of messy because it had all these handwritten notes on it.
I was going to get a 6 percent royalty on it, which was pretty good. I knew what was going on at that point. But then he broke the agreement right away. So I said, Look, Bill, I want to see more of my royalties.
He got all upset, and we went from being friends in the morning to being enemies that afternoon. I was with a couple other people when we went to confront him that day. We were ready to see the books. When things went badly, we agreed to go and fight it out outside. Bill Graham said okay to that, and as we walked out the door onto the sidewalk, Bill quickly turned around, locked the door behind him, and disappeared up the stairs. Of course, I went to a lawyer, then a couple of lawyers, and they all basically said, Oh, my God. You left your signed contract in Bills trust.
You dont even have a copy of your own; you might as well just forget it. On the last poster I did for him at that time, I was so mad that I added a snake with a dollar sign in its mouth. Bill had shown himself to be a lying crook rather than an honest person. That was an unfortunate choice on his part, but it was his choice nonetheless. Thats how I lost all of my respect for Bill Graham.
After a friend showed Wes a copy of a 1908 poster done by the Viennese Secessionist artist Alfred Roller that contained an alphabet and lettering style similar to what Wilson had been doing, Wilson absorbed the Roller style, altering it in an explosion of lettering creativity that changed the poster scene permanently. His style of filling all available space with lettering, of creating fluid forms made from letters, and using flowing letters to create shapes became the standard that most artists followed in order to put psychedelic in the art.
The first clear example of thisand a key piece in Wilsons historywas the poster BG-18, done for a show with the Association at the Fillmore Auditorium. Set in a background of green is a swirling flame-form of red letters.
With this poster came a new concept in the art of that timeperhaps the first truly psychedelic poster. Wes proudly informed me that this poster was being shown at the National Museum of Modern Art. The Art Nouveau style of celebrated Czech designer Alphonse Mucha was another major source that influenced Wilsons work. In late 1966, Wilson created a poster for Bill Grahams Winterland that has been nicknamed The Sound. (BG-29) It combines Wilsons ability to fill all available space with vibrant, flowing letters together with his admiration and respect for the feminine form. It is one of a handful of posters from that era that is considered representative of the entire period. Wilsons treatment of women and the feminine form is one of his most lasting contributions to the poster art of the sixties.
It has been said that the psychedelic posteras we have come to know itwas defined by Wes Wilson sometime in the summer of 1966. Wilson did his last poster for Bill Graham in May of 1967 but continued to produce posters for the Avalon and other venues. In fact, Wilson, who was considered a leader, if not the key artist, of the psychedelic poster scene, was also profiled in such major magazines as Life, Time, and Variety magazines. Wilson also created a new technique in enameling glass as art and developed a watercolor style, which was well received at his one-man show in San Francisco in 1973. Then, in 1976, Wilson relocated his family to a cattle farm in the Missouri Ozarks.
With the publication of the, now classic, poster book, The Art of Rock , Wilson was invited, in 1989, to exhibit his classic poster work at the Springfield Art Museum. The success of the resulting show, Looking Back: Rock Posters of the 1960s by Wes Wilson, rekindled Wilsons interest in the poster scene and he went on to create and publish Off The Wall, an in-depth journal on poster art and contemporary ideas. The nine issues of this, now out-of-print, publication are eagerly sought after by poster enthusiasts. Wilson was also the executive producer of three Rock Art Expos large poster conventions on the West Coast. Over the years, Wilson has also been featured in a number of gallery exhibits, both his classic and his contemporary works.
Wes passed away at his home January 24, 2020. Please feel free to write us first if you plan to get multiple posters. Reimbursement will be for the cost of the item only. Feel free to contact me if you have any questions or need to see additional photos of the item and I will respond to the best of my knowledge.
The item(s) are from a smoke-free household. Pictures are of the actual item being auctioned. The item "Fillmore BG-62-OP-1 Grateful Dead Signed by Wes Wilson" is in sale since Tuesday, August 11, 2020. This item is in the category "Entertainment Memorabilia\Music Memorabilia\Rock & Pop\Artists G\Graham, Bill\Posters". The seller is "terry-dunn" and is located in Phoenix, Arizona.
This item can be shipped to United States.