2023 Dead and Company Poster San Francisco Final Oracle Shows Flawless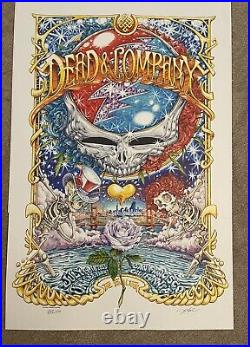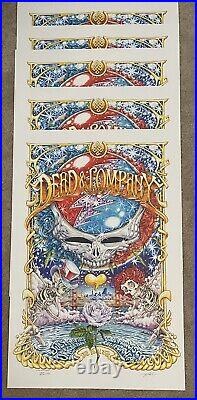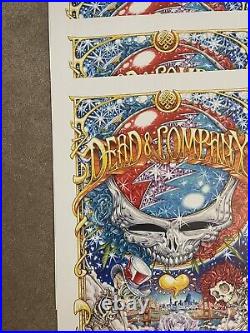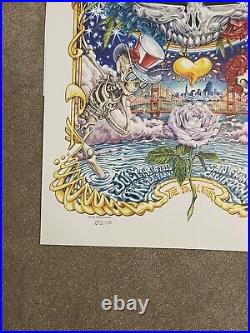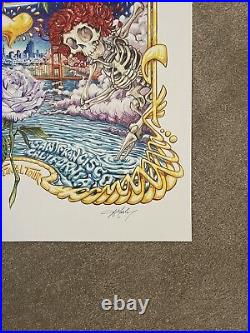 A very rare (Small run of 1750) and exclusive Dead and Company poster from the final Dead And Company shows at Oracle Park in San Francisco in July of 2023, featuring stunning artwork by AJ Masthay. Each poster is individually numbered in the lower left corner. They have not yet been rolled and are PERFECT. AJ's gig poster run for Dead & Co.
S final tour has been an epic and worthy farewell for the venerable band, and we're proud to have been along for the ride. AJ is one of the most ardent Deadheads that we know, and he's poured his heart and soul into all of these gig posters. AJ had this to say about his posters: I wanted to create a visual celebration of the love and joy these musicians have brought us all around the world for so very many years. This may be the last iteration of this lineup but we'll all keep dancing around this bright blue ball indefinitely and the music will absolutely live on. I say it often but it truly has been an honor and a privilege to create a visual feast to go along with this final tour.
When approached to create a piece for these last shows I was specifically asked if I could "go big", so that's exactly what I did. I humbly present my first ever single image 24"x36" gig poster celebrating these very special shows in San Francisco and really all things Dead & Company/Grateful Dead. This band has been such a huge part of my life and career over the past 8 years and I see this piece as the jewel in the crown, I hope you agree.